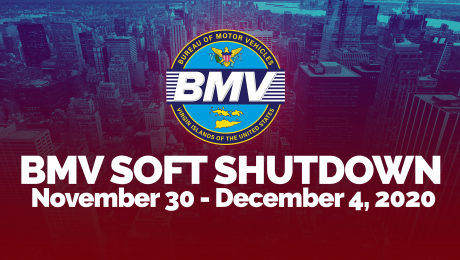 U.S. VIRGIN ISLANDS— In accordance with Governor Albert Bryan Jr. soft shutdown of Government agencies, the Bureau of Motor Vehicles will be reducing some services to the motoring public from November 30, to December 4, 2020. Director McIntosh and the staff of the Bureau of Motor Vehicles are implementing the following procedures to safeguard the community and the employees during this time:
Vehicle Registration services, including our drop box system will be closed during this period. Customers who dropped off documents to the BMV prior to November 30, will be provided appointments to retrieve and pay for transactions. Customers are reminded to come to the BMV only at the appointment time.
Director McIntosh is still encouraging the community to take advantage of the bureau's online vehicle registration process. The bureau will waive the requirement for inspection for any customer that renew their vehicle registration online. If customers need assistance in setting up an account or for technical assistance, please email the bureau at info@bmv.vi.gov.
Customers with driver's license related services will keep their normal appointments, however, customers are reminded to come to the BMV only at the appointment time.
Director McIntosh thanks the community for their understanding during this public health emergency. For more information, please feel to contact the BMV at (340) 713-4268 on St. Croix, (340) 774-4268 on St. Thomas, and (340) 776-6262 on St. John.
For up to date information on COVID-19, the new strain of coronavirus, please visit the Virgin Islands Department of Health's website at: doh.vi.gov/coronavirus or text COVID19USVI to 88877. #COVID19USVI
####