Temporary Closure of the Bureau of Motor Vehicles' St. Thomas Office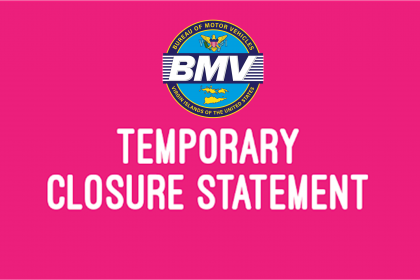 U.S. VIRGIN ISLANDS— Director Barbara Jackson-McIntosh would like to inform the motoring public that the Bureau of Motor Vehicles' (BMV) St. Thomas office will temporarily close from Tuesday, November 17, 2020 to Wednesday November 18, 2020 and will resume normal working hours on Thursday, November 19, 2020 at 8:00 a.m. This closure is necessary so that the BMV can completely sanitize the buildings to ensure that the employees and customers have a safe environment in which to work and conduct business. All customers with appointments for vehicle services or driver's licenses services will be contacted and rescheduled for later this week.
Director McIntosh apologizes for any inconvenience this may cause. For more information, please feel to contact the BMV at (340) 713-4268 on St. Croix, (340) 774-4268 on St. Thomas, and (340) 776-6262 on St. John or via email at info@bmv.vi.gov.
####