The Bureau of Motor Vehicles Reminds the Public that all Vehicles in the Territory must be registered with the BMV or a citation will be issued by Law Enforcement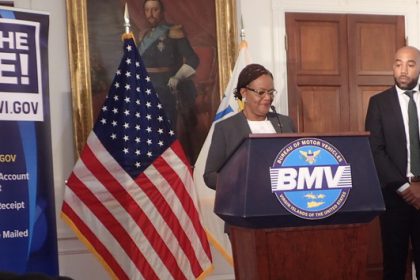 U.S. VIRGIN ISLANDS— Director Barbara Jackson-McIntosh is reminding the motoring public that ALL vehicles in the territory must be registered with the Bureau of Motor Vehicles (BMV).  Effectively immediately, the Virgin Police Department will issue citations for unregistered vehicles to include vehicles that were never titled or registered in the Virgin Islands.
In addition, if there is a change of ownership of a vehicle bought locally, 20 V.I.C. § 335 requires that vehicles must be transferred into the new owner's name within twenty-four hours of the transaction.  If you fail to properly transfer the ownership of the vehicle at the BMV and you are stopped by law enforcement officers, you will receive a citation.  The application that is required to apply for a Certificate of Title and a list of the required documents are available on our website at bmv.vi.gov, click on the FORMS tab, and download the pdf fillable Certificate of Title Application.
For more information, please feel to contact the BMV at (340) 713-4268 on St. Croix, (340) 774-4268 on St. Thomas, and (340) 776-6262 on St. John or via email at info@bmv.vi.gov.
####